"When tough times come, it is particularly important to offset them with much gentle softness. Be a pillow."

Vera Nazarian, THe Perpetual Calendar of Inspiration
There is a time, late at night, when your mind craves rest and your head sinks into the pillow and finally, your body relaxes. It is the perfect recipe for recovery after a day of troubleshooting and unplanned interruptions. Pillows are synonymous with comfort and relaxation but you need to choose one that fits your needs to experience maximum benefit. A good pillow is key to the quality of your sleep and can help you restore energy and feel rejuvenated so you can again, support others.
The health benefits include; less neck and back pain, reduced heartburn, improved rest and better moods. Pillows can also be used during the daytime hours to reduce back and neck tension, improve your posture and support good body alignment while sitting. One of the most effective visualizations for relaxation is to imagine soft, fluffy, pillow-like clouds floating carefree…let go of anxious worry.
Picking the Right Pillow
Hypoallergenic Pillow
Allergy season is upon on us and a hypoallergenic pillow is a must. You can also add a hypoallergenic pillow cover and wash your pillow cases every week in a sensitive skin laundry detergent.
2. Body Pillows
Body pillows are long large pillows that extend from your head to your knees and support your body as you hug it. This can be a great remedy for those who toss and turn a lot.
3. Lumbar Support
Pillows and cushions shaped like rolls or squares can give you support while sitting as they fill in the curve of your spine and reduce strain and discomfort.
4. Shaped Pillows
There are pillows shaped to fit the nape of your neck or the curve of your CPAP machine. Pregnancy pillows support you in side sleeping positions and wedges give comfort to your knees.
5. Chair pillows
If you are finding that you are working at home without an ergonomic chair, check out these tips from Athletic Therapist, Alicia Crelinsten for some correct pillow positioning.
Pillow Ingredients
Do you like your pillow warm or cool?
Feather and down pillows are warmer and foam and gel pillows are cooler.
Do you like your pillow soft or firm?
If you are stomach sleeper, soft is better. If you are a back sleep, firm is often better. If you are a side sleeper, somewhere in between is often the best.
Do you like to scrunch or stretch?
Pillows come in all sizes from twin to king and so do people, so match your pillow to your person, not your bed.
Pillow Games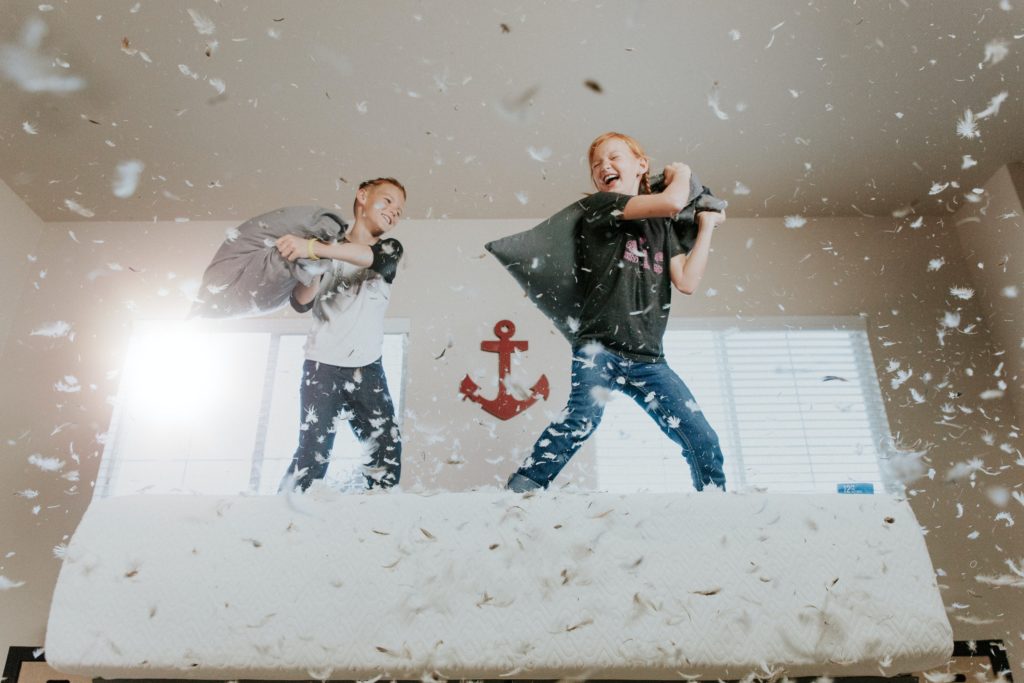 Build a pillow fort
Have a pillow fight
Build a pillow path
Pass the pillow game
Resources
https://www.jenreviews.com/pillow/
This website reviews products and they have an excellent article on the types of pillows .
https://www.sleep.org/articles/what-pillow-is-best-for-you/
This site is part of the National Sleep Foundation and the article helps you identify your pillow needs.