How to have a routine when life isn't a routine
Good morning, I made a commitment to post every day during this "time" and it has now become my Routine. That's the theme for today – the importance of routine ordinary everyday mundane activities. Science calls it Circadian Rhythms, I call it "Canadians got Rhythm" !
What is a Circadian Rhythm?
Circadian rhythms are the body's physical, mental and behavioural changes that respond to daily cycles of light and dark, warm and cool. At one time in history, this was set for us because humanity woke with the sun and slept with the stars. Today, our override button is on all the time and we have lost our natural rhythm of light and dark. Then, add worry, 24 hour news, boredom ( or too much work !) and bang…we feel sluggish, blue, bloated and blah.
Our bodies have an internal clock for appetite, mood, sleep and wakefulness that we set by our human behaviours just like training a puppy or setting a routine for a baby. We need these internal circadian rhythms to regulate brain activity, hormone production and cell regeneration. A full circadian cycle is 24 hours. Who knew? Important stuff ! My point is; we have to set the light/dark stimulus and train ourselves to be on a routine in order to feel better. Just start with a focus on light/dark and the rest will follow.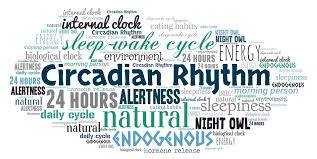 How to Set a Schedule During Self-Isolation
1. Night falls and morning rises. Get up at your usual time and go to bed at your usual time. Yes, the Covid counts will change but is that really breaking news? It will all be there for you in the morning, ain't goin' anywhere fast.
2. Dark is dark. Not dark with a screen light on. Shut down, close the lid, hit the dimmer, find the sleep button, draw the curtains and if you are like me, put on the eye mask and really zone out.
3. Light is light. Open the curtains,lift the blinds, turn on the lights, turn on the screens, open the windows and say good morning to the world or at least your house buddies and 6 feet away neighbours.
Resources: Check out the Canadian Sleep Society (css-scs.ca)
Tip: Unleash your natural rhythm by setting your wake/sleep cycle.
TLC: If you have shift work, babies, illness or even teenagers, I know it's harder and you may have to pivot your clock to match your needs but focus on creating light and a calming darkness.
P.S. have you noticed that the lighter news items have been the same as my topic posts but 12 hours later….hmmm, we are being watched ! Share and Share.
Tell us your secrets and your stumbling blocks. See ya tomorrow.